Neurological Physiotherapy North Vancouver
Improve muscle strength, coordination, balance, muscle tone and range of motion with our experienced neurological physiotherapists. Schedule an appointment today.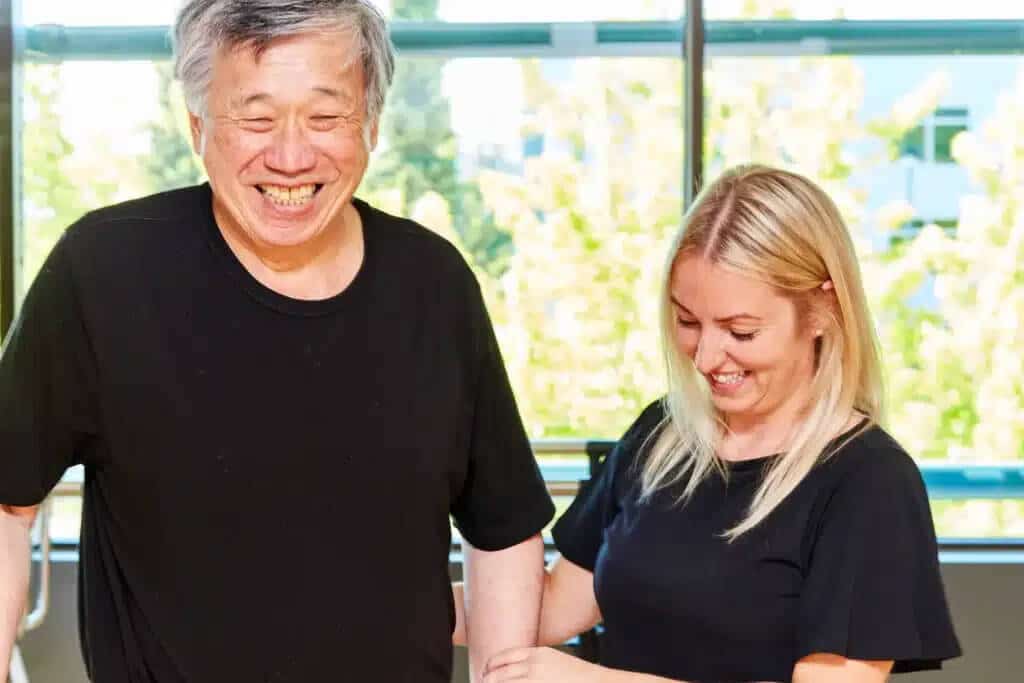 Get The Care You Need Today
Delaying proper treatment of your symptoms can lead to:
Gain Confidence And Return To Your Activities Of Daily Life
Expert Care for Pain Sufferers
Our highly trained team of therapists is dedicated to providing you with personalized care that aims to reduce your pain and enhance your range of motion.
Your Own Treatment Action Plan
We understand that every patient is unique, that's why we create personalized and detailed treatment plans based on your specific needs and goals.
Convenient Location And Scheduling
We're conveniently located in North Vancouver, British Columbia and offer flexible scheduling options, including evening bookings to accommodate your busy lifestyle.
Getting Started With Neurological Physiotherapy
A full Neurological Physiotherapy assessment will be completed on your first visit.
This starts with a detailed discussion about you, your condition, your medical history, your lifestyle, your stress load and your progress or barriers to progress. We will also discuss what you are finding difficult day to day, and what you would like to do better.
Our Physiotherapists will do a full Physical assessment looking at Range of motion, Muscle strength, Proprioception, Sensation, Co-ordination, Balance, Sit to stand and walking pattern. Please wear loose comfortable clothing. Of course, your family member or caregiver is welcome to attend if you would like.
With your consent, a short video will be taken of your ability to "sit to stand" and your walking pattern. This will be reviewed and analyzed regularly. This is a simple and reliable measure of your progress. Other valid and reliable outcome measures will also be used to measure your improvements in movement, balance, strength, range of motion and quality of life.
After your assessment, we will work together with you to create your goals and your treatment plan.
Your treatment plan will be specific to you and will take into account your goals, financial resources, as well as your time schedule and energy requirements
How Will You Reach Your Goals?
Neurological Physiotherapy treatment at Trimetrics is specialized work for those with neurological impairments. It will be different for each and every one of our clients since no two individuals present in exactly the same way.
With over 15 years of experience, we have a wide selection of treatment techniques which we will apply based on your assessment findings.
Exciting research proves that the brain is not a rigid "hardwired "organ but capable of immense healing potential by creating new pathways that have been damaged by trauma or disease.
Trimetrics neuro physiotherapists are trained in a wide range of techniques to facilitate your optimum healing potential.
Our treatment approach may include direct hands-on techniques to facilitate input to the brain and nervous system, facilitation of movement/task, functional activities and repetition, strengthening exercises, stretching, gait re-education, balance training, Intramuscular Stimulation and Clinical Pilates. Pilates and use of Pilates equipment (Reformer, Trap Table, Chair and Core Align).
Pilates combined with Neurological rehabilitation techniques has been proven to be a very effective method for restoring movement, balance, proprioception, and strength for clients with neurological impairments.
In order to be successful, at Trimetrics we feel very strongly that the work we do during your session must be incorporated into your daily activities. Your body needs the opportunity to improve. Opportunity through routine, activities of daily living, leisure and a home exercise program designed specifically for you. We want to help you help your recovery. We always aim for quality movement, and we firmly believe in a holistic approach to care.
Empowerment = Success
We love to help people with all types of Neurological conditions and injuries to achieve their goals.
If you are curious to know if our Neurological Physiotherapy program is right for you call (604) 982-0366 or Book Online.
Return To Your Active, Healthy Life Pain Free
Getting Started Is Easy
Create & Implement Your Treatment Action Plan
Talk with our expert therapists to design a plan that's personalized to meet your unique recovery goals.
Accomplish Your Health Goals
Enjoy loss of pain, improved mobility and getting back to doing the things you love!
150 Years + of Combined Experience at Your Service
Common conditions successfully treated
Our team of experienced therapists has helped countless patients alleviate pain from a range of injuries and improve their quality of life. We treat a wide variety of conditions including:
Insurance Partners
We direct bill ICBC and WorkSafeBC. Extended private insurance companies coming soon!

Frequently Asked Questions
Reach out if you can't find what you're looking for.
Trimetrics Physiotherapy
Open Hours
Monday – Thursday: 7:00 AM – 7:00 PM
Friday: 8:00 AM – 5:00 PM
Saturday & Sunday: By Appointment Only